Covers for corn or soft clavus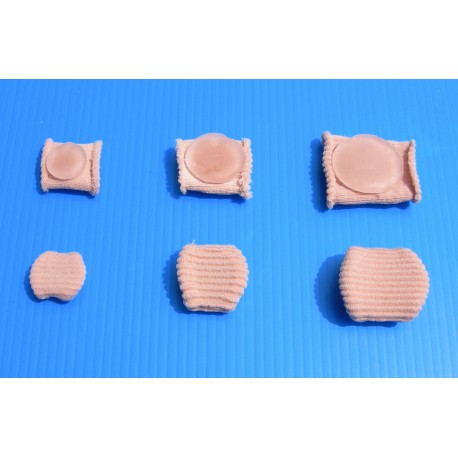  
Covers for corn or soft clavus in fabric and soft silicone gel
Packaging: 2 Covers for corn or soft clavus
Disc in soft silicone gel fixed inside a cover made of stretchable fabric.
The cover is place over the toe, the disc against the area to be protected.
They are particularly efficient for corn, soft clavus, hammer toes and callosities.
They relieve the pain and reduce the pressure and the friction caused by shoes.
Warning
If suffering from diabetes or you have circulation problems, please consult your doctor before using this product. Non- sterile. Do not use this product on injured skin. Remove the product from the foot at least for 4 consecutive hours daily. If this item causes skin discoloration, numbness, irritation or pain, stop using it immediately.
In order not to cancel the beneficial effect of the metatarsal pads, avoid wearing shoes too tight or heels too high.
Maintenance
You must wash the products with warm water and soft soap. Rinse with clear water. Let them dry in open air, far away from any source of heat or sun. Put talc on if the gel becomes sticky.
3 Sizes:
L (for the 1st toe)
M (for the 2nd, the 3rd, the 4th toe)
S (for the 5th toe)
Customers who bought this product also bought: